MayCor Containment Systems are not susceptible to wind and water erosion like earthen containment. Plus, the strength and durability of corrugated, galvanized steel provide long-term performance with virtually no maintenance. More economical and weather-resistant than the alternatives, they also offer greater design flexibility. Check these values and reliability features:
Sidewalls of G-90 galvanized steel with a minimum tensile strength of 65,000 psi for long-lasting performance.
Modular components assemble quickly for fast installation.
Bolt-together design offers an endless variety of shapes as well as easy expansion and relocation.
These value-packed features, together with local support and service, make MayCor Containment Systems your first choice.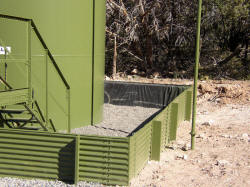 Powder Coating
Painted systems are available to establish a continuous look with other structures on-site or to blend with the natural environment.
Dependable
Our steel systems ensure longevity, by forming each sidewall sheet with rounded tops and double bolted seams, providing twice the strength while maintaining sidewall shape and failsafe seals. To prevent further leakage when, and if, a spill occurs, our high-grade liners are expertly sealed at each seam.
Expandable
Expansions and modifications to an existing system are easily done by adding more panels and liners.